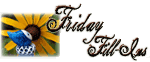 I haven't done the Friday Fill-in for a while.
Plans and schedules keep me sane .
I'm happy when things go as planned .
The last thing I drank was ginger ale and cranberry juice.
One of the most valuable things in my life are those I love .
I like anything except meat on my pizza.
Dear November, while you have lots of fun things, and smell great, and beautiful colours… please hurry up and get to December 20th already.
And as for the weekend, tonight I'm looking forward to relaxing, tomorrow my plans include recouping from this cold and grocery shopping and Sunday, I want to find someone to help me sort out my knitting!
This week I took Wednesday and half of Thursday off of work in an attempt to quell this cold. No I don't have H1N1 or the regular flu… just a cold with a sore throat and runny nose. I was feeling dizzy and I know myself: if I didn't take some time to recoup once I felt it coming on, I'd be fighting it for at least two weeks. So I'm relaxing, drinking lots of fluids, knitting, reading, and watching TV.

Speaking of knitting — I have been working on some Christmas gifts and working with some good quality yarn. Well, Henry has a history of licking, rolling in, chewing on, and kneading anything that is 100% wool, alpaca, llama, or similar. Yes, this has happened more than once. Yes, I need to store my knitting where my cat cannot reach it. Yes, I now need help figuring out where my stitch marker goes in a circular pattern so that the pattern isn't thrown off whack. Uuuuugh. But because it is semi-secret it's not light I can post a picture on the blog!
Oh and December 20th? That's when I leave for Christmas in England. I've taken some time off work in January to go travelling because this will be my fifth Christmas in England and I've seen lots of London and Manchester, but not much else. My plans aren't set but I'd like to go to Stonehenge, Stratford-Upon-Avon, Bristol, Bath, Leeds, Liverpool, maybe Dover… and I have a desire to go to Guernsey now… haha
Related posts: