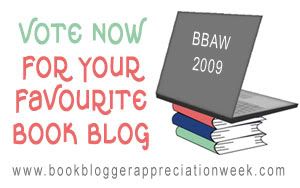 Book Blogger Appreciation Week is in a couple short weeks and voting on the shortlist has already begun.
I haven't been nominated for anything (which isn't a surprise since I don't do strictly book blogging) but I designed the website and all the graphics. Also, some projects which I've been a part of have been nominated, such as the War Through the Generations Reading Challenge.
Now, go get your vote on (until September 12, 2009 at 11:59 pm EST) and don't forget to load up that Google Reader with awesome new blogs!