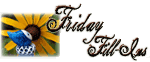 My blueprint for success includes creativity, perseverance, proofreading, and tea.
M&M's was the last candy I ate (omg I ate my initals!).
The best facial moisturizer I've ever used is Nivea Soft.
Screaming can be good therapy.
I'd like to tell you about Circle Craft Christmas Market: I helped do the publicity for it and I'm really excited. It starts on Tuesday!.
Creativity is my strongest characteristic.
And as for the weekend, tonight I'm looking forward to um I forget, tomorrow my plans include class in the morning and a massage in the afternoon (aka back therapy) and Sunday, I want to I forget as well… I know I have to do something though!