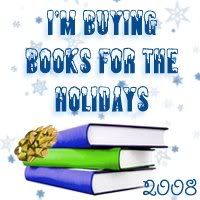 Last week Amy (of My Friend Amy) emailed a bunch of us to find out if there was any interest in helping with a "Buy Books for the Holidays" campaign. People responded with enthusiasm! (How can't you? Amy organized Book Blogger Appreciation Week!)
Anyway, I offered my web design services to this amazing cause, and the fruits of our labour is unveiled today! Visit us at www.buybooksfortheholidays.com!
The goal is to help put a bit of money back into the book publishing industry during one of the most commercial/retail-heavy times of the year. Also, we are constantly hearing about the industry suffering from lack of profits with the result of bookstores closing worldwide. The industry is changing, yes, but you get your money's worth when you buy a book: entertainment, knowledge, and escape. There are definitely books for everyone from the most reluctant reader, to the most avid; books come in all shapes, sizes, and interests.

I am pledging to Buy Books for the Holidays this season. Will you?